2022
Warren Darby
The Oneida Lake Association (OLA) is proud to announce that it has named Warren Darby, past president and current member of the OLA Board of Directors, as its 2022 Conservationist of the Year.
The Conservationist of the Year Award is OLA's highest honor for people dedicated to preserving and protecting Oneida Lake, the natural resources within its watershed, and the people and communities that benefit from the lake. Darby was recognized not only for his impact as an OLA director, but for a career of professional and volunteer service helping people in the environs of Oneida Lake.
As an extremely avid angler and hunter, Darby knows the value of the lake and its natural resources, and by spending his every spare moment on the water, he has had a deep and evolved understanding of trends in the ecosystem and its sporting community. These values have been reflected in his work over many years, professionally and as a volunteer.
Darby has been a member of the Association for more than 50 years, and he joined the all-volunteer Board of Directors in 2010. In 2016 he became an officer of the Board, including a term as President and two terms as Vice President. He continues as an active and engaged member of the Board.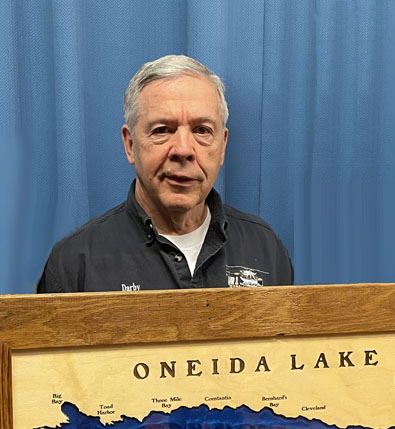 2021
Scott Shupe
In April 2021, at its first-ever virtual annual meeting of members, the Oneida Lake Association presented the Conservationist of the Year Award to Past President Scott Shupe. "It's fitting that this year's award winner is being honored at a virtual meeting," said Past President and award presenter Matt Snyder, "because Scott is the person who laid the groundwork for OLA to enter the digital age."
OLA's 2021 Conservationist of the Year has done so much, it could literally fill a book. For starters, he served the OLA Board as a director for 20 years, culminating in a term as President. Throughout his tenure on the Board, Shupe understood better than most that OLA is mainly about communications, and that the Association is at its best when raising public awareness of lake issues. Here are just a few of the things that Shupe accomplished as a director and officer of OLA:
He led the charge to develop the OLA's monthly e-newsletters and provide content to our Facebook page, he co-chaired OLA's successful Nuisance Geese workshop, he developed the agenda for several Annual Meetings, he met with dozens of elected officials on Oneida Lake issues, he spent hundreds of hours manning OLA's booth at sports shows and community events, he kicked off OLA's participation in water chestnut pulls, and he organized a well attended Invasive Species Conference.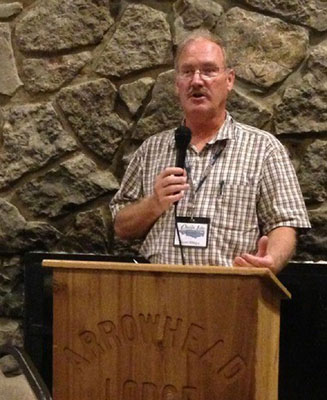 2020
John Forney, Ph.D.
The Oneida Lake Association has honored outstanding fisheries scientist John Forney, Ph.D., Director Emeritus of the Cornell University Biological Field Station at Shackelton Point, as its 2020 Conservationist of the Year.
r. Forney was selected to receive the honor because throughout his career, he has gone above and beyond in his commitment to excellent and impactful research that helps Oneida Lake, its fish populations, and walleye anglers everywhere. The 2020 honor is doubly special because it is bestowed in commemoration of the 75th anniversary year of the OLA; and because it makes Forney the rarest of the rare: a two-time recipient of OLA's premier honor. He was previously recognized as the Conservationist of the Year in 1967.
"Dr. Forney's research and leadership of Shackelton Point have made Oneida Lake one of the best studied and best managed lakes in the world," said Girvan. "His career-long achievements in science and fisheries management have made him a role model for multiple generations of conservationists, and his work will continue to pay dividends for lake enthusiasts andanglers today and tomorrow."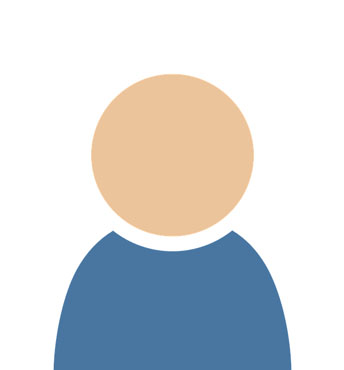 2019
Ken Lynch
The Oneida Lake Association has honored longtime conservation leader Kenneth P. Lynch as its 2019 Conservationist of the Year.Lynch served more than 20 years in the New York State Department of Environmental Conservation, where he successfully advocated for initiatives that helped preserve and enhance Oneida Lake.
Lynch was recognized for the career-long, positive impact he has had on Oneida Lake, most recently as executive deputy commissioner to the DEC, a position from which he retired this year. Prior to that, Lynch was the director of DEC Region 7, the nine-county region of Upstate New York which encompasses much of Oneida Lake. Regions 6 and 7 have historically worked together to manage Oneida Lake natural resources, a partnership that Lynch strengthened considerably during his directorship from 1997-2016.
Some of the key successes during Lynch's tenure included securing additional DEC law enforcement resources and equipment for Oneida Lake; protecting the lake from wastewater discharges and other environmental threats; and working closely with sportsmen and the OLA on issues of concern to waterfowlers, including season setting and hunter access.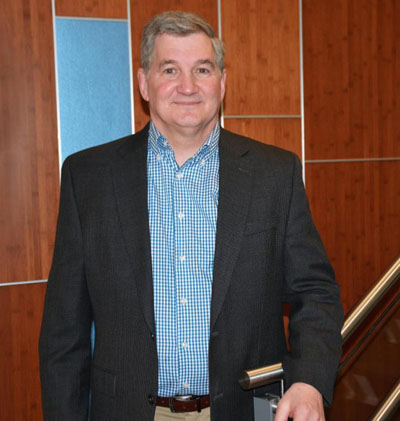 Lynch joined DEC in 1995 as a regional attorney, after spending the early portion of his career in private-sector environmental law. He is a graduate of the Syracuse University College of Law and Syracuse University. Upon his retirement from DEC, Lynch is beginning a new venture in a leadership role at the environmental engineering firm, O'Brien and Gere, based in Syracuse.
2018
Howard Goebel
The Oneida Lake Association honored Howard Goebel, Deputy Director of Canal Engineering, Construction, and Maintenance, as its 2018 Conservationist of the Year. Goebel is the New York State Canal Corporation and New York Power Authority administrator whose responsibilities include Oneida Lake's water level controls and infrastructure.
Oneida Lake, the largest lake entirely within New York State, is economically vital to surrounding communities. Its watershed is home to more than a quarter million people, it supports a vibrant residential and tourist economy, offers world-class fishing, and hosts abundant recreational opportunities.
Goebel has been an avid angler since his youth, and his professional involvement with Oneida Lake begin in 2001, when he joined the New York State Canal Corporation as Canal Hydrologist, responsible for the system's water management program. In 2015, he was named Operations Engineer for the New York Power Authority.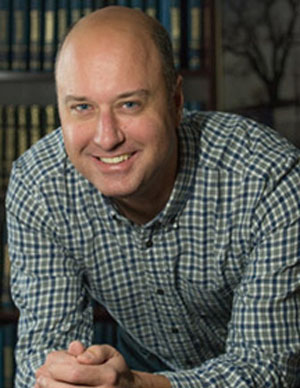 NYPA absorbed the Canal Corporation's budget and staff in 2017, at which time Goebel returned to the Canal Corporation. He provides both NYPA and Canals with leadership of navigation, water supply, hydropower generation, invasive species management, and emergency management, and has led efforts to revitalize the Canal and secure its aging physical plant.
2017
Doug Stang
The Oneida Lake Association honored Doug Stang, assistant director of the Division of Fish and Wildlife in the New York State Department of Environmental Conservation, as its 2017 OLA Conservationist of the Year.
Conservationist of the Year is OLA's highest honor for people who protect Oneida Lake, and Stang was recognized for his 3-decade-plus effort to help Oneida Lake's fisheries and natural resources.
"It's safe to say Doug cares as much as we do about Oneida Lake," said OLA Past President Scott Shupe. "Throughout his career in Region 7 and in Albany, he has always gone way above and beyond for Oneida Lake." The award was presented at OLA's 72nd annual membership meeting, which was May 3 in Cicero. By accepting the OLA Honors Stang With Conservationist of the Year Award honor, Stang entered the equivalent of the Hall of Fame for Oneida Lake conservation.
Previous honorees have included Rep. Jim Walsh, past Oneida Lake Fish Cultural Station Director Mark Babenzien, and Cornell Shackleton Station Director Emeritus John Forney. Stang's contributions to Oneida Lake have been diverse and deeply felt, including his advocacy for sportsmen in fisheries management and his support for angler and boater access.
One of Stang's most important achievements was to lead the development of New York State's cormorant management plan, which still guides local, state, and federal efforts to hold the invasive species at bay even as funding and tactics have shifted over the past 20 years.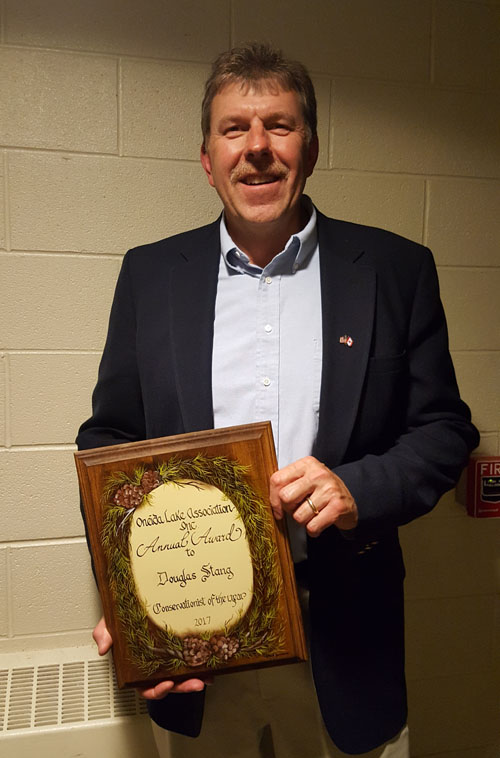 2016
Frank Flack
Frank Flack, Fish Manager for the New York State Department of Environmental Conservation (NYSDEC), accepts the "Conservationist of the Year" award from the Oneida Lake Association (OLA). Mr. Flack, of Watertown, is a region 6 Biologist. Also pictured: Scott Shupe, OLA president. Photo: Matthew Snyder, OLA.
Flack, the 2016 honoree, stands out as a DEC staffer who is unfailingly aware, responsive, and supportive in addressing Oneida Lake fishery issues. He has made a longstanding personal and professional commitment to Oneida Lake which is reflected in several programs and initiatives currently underway.
In all his work with OLA, Flack's approach has been to focus on real-world experiences in the field, rather than philosophical debates far removed from the reality of sportsmen and fish.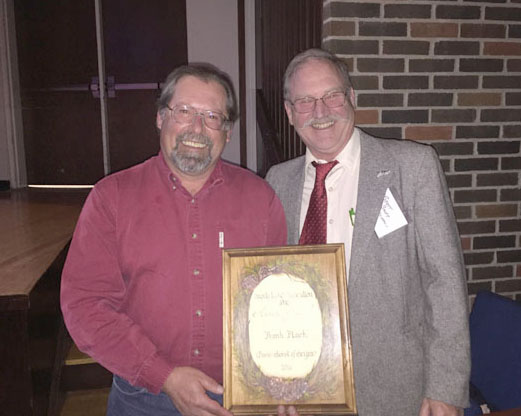 2015
Randall Jackson
The Oneida Lake Association honored Cornell University Senior Research Associate and Associate Director of the Shackelton Biological Field Station, Randy Jackson Ph.D., as its 2015 Conservationist of the Year. Dr. Jackson came to CBFS in 2000 working on Oneida Lake and other New York lakes, and has led the Oneida fisheries program since 2009 when he became the leader of the fisheries research program on Oneida Lake. Thanks to his efforts, this research continues to be known and used across the world as one of the best long-term data sets on fish and fisheries in an inland lake.
Jackson was also a strong proponent of fisheries education and fisheries history. He worked extensively with the American Fisheries Society, and is a past President of its History Section as well as regional representative of the Education and Management Sections.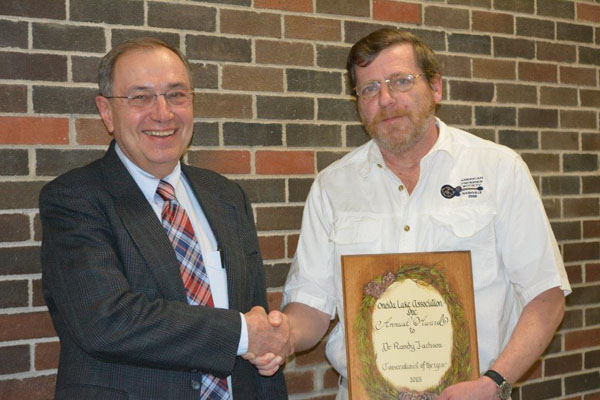 2014
John Pitarresi
John Pitarresi, longtime sportswriter for the Utica Observer-Dispatch, has been informing Oneida County readers about Oneida Lake for many years, taking a keen interest in issues such as fish populations, hatchery operations, and more. For keeping Oneida Lake front and center, Pitarresi was named 2014 Conservationist of the Year by the OLA. The award was presented at OLA's annual meeting at Cicero-North Syracuse High School last April.
Pitarresi has worked at the O-D for most of OLA's 68 years, starting at the paper in 1973. The outdoors are Pitarresi's first love, and he's written about his passions for angling, hunting, and other outdoor activities since 1979 as the outdoor columnist.
Pitarresi's articles and columns have had a positive influence on efforts to steward the lake's natural resources. He was among the first reporters to cover the threat posed by cormorants in the late 1980s, and news clippings with his byline have long been a part of OLA's advocacy with Congress, federal agencies, and New York State. When OLA has needed to bring independent, third-party analysis to decision-makers to promote a decision in the lake's favor, directors have seldom fared better than when equipped with Pitarresi's writing.
"It's a profound honor for the organization to have the chance to recognize someone of John's reputation and stature in the outdoors community," says President Scott Shupe. "His contributions to the Oneida Lake cause have been appreciated for many years, and this award recognizes his entire body of work about the lake, even the articles and columns that he's yet to write."
2013
David Lemon
The OLA Board of Directors is pleased to announce the naming of DEC Region 7 Fisheries Manager Dave Lemon as the 2013 recipient of the association's "Conservationist of the Year" award.
Dave, a graduate of SUNY Cobleskill and Virginia Tech, started his career with the USDA Forest Service as a fisheries technician in Blacksburg, Virginia, and later Juneau, Alaska. The New York DEC hired him in 1990 as a seasonal fish and wildlife technician, but a promotion shortly thereafter catapulted him into the position of aquatic biologist.
Dave worked as a DEC biologist for two decades, culminating in his elevation to Region 7's Fisheries Manager status in 2010. Dave summarizes his current job's purpose as doing everything to "protect and enhance the fisheries resources of Region 7 and New York State."
Dave Lemon stepped forward to organize Oneida Lake's annual volunteer cormorant hazing program after USDA funding evaporated several years ago. The DEC program has helped lessen the birds' impact on Oneida's walleye and perch populations. In this role, Dave has given countless hours for our lake's betterment; the OLA was proud to name him "conservationist of the year."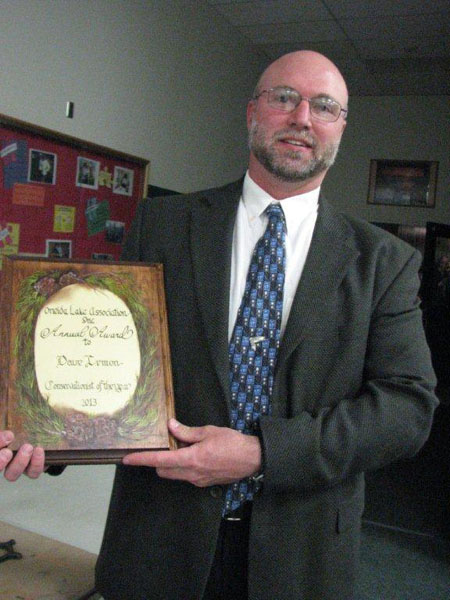 2012
Bill Girvan
OLA Director Bill Girvan, whose father and grandfather imparted an undying love of Oneida Lake angling and who was inspired by that tutelage to life-long avocations in conservation and youth angling education, was named "Conservationist of the Year" at the OLA's annual meeting last May.
Bill, a recreation therapist at Utica's House of the Good Shepherd, was a founder of Central New York Youth Fishing Educators, an organization that has taught angling basics to thousands of our area's children. Bill also serves as co-chairman of the New York State Conservation Council's Fish Committee and has been Region 6 representative to that council since 1986.
He joined the OLA board in 2000. He has served as president and fish committee chairman of the Oneida County Federation of Sportsmen's Clubs and is a certified instructor and past regional specialist of the Sportsfishing and Aquatic Resource Education Program for New York State.
In 1983, Bill was named a member of the inaugural class of the New York State Outdoors Hall of Fame. Last May 30, he received yet another deserved honor when the Village of New York Mills placed his name, along with John Maciol and the late Don Keller, on a plaque that adorns the Sauquoit Creek fishing access deck in a village park.
The OLA was honored to crown Bill Girvan's outdoors' career with this prestigious award.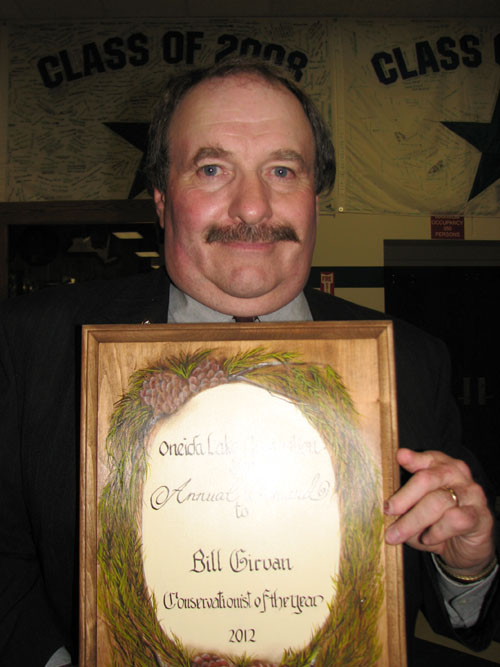 2011
Mark Babenzien
OLA President Matt Snyder proudly named Mark Babenzien, Director of the Oneida Fish Cultural Center, as "conservationist of the year" at the OLA's annual meeting in April.
A 1976 graduate of Cobleskill College with a degree in fish and wildlife management, Mark has worked for the DEC for over thirty-five years. He began at the Oneida Hatchery as a fish and wildlife technician and, in the early 1980s, accepted a promotion to assistant hatchery manager at the state's Bath facility. In 1992, he transferred back to Oneida as hatchery manager, where he partnered with Director Richard Colesante to vitalize the newly constructed facility.
Mark's expertise also includes lake sturgeon, paddlefish, and round whitefish propagation. Since he returned to Constantia, he has overseen the incubation of over five billion walleye eggs and the stocking of over two billion walleye fry into Oneida Lake! We can all thank Mark when we land a "keeper."
The OLA congratulates and lauds Mark Babenzien for his untiring efforts to enhance our lake's fishery.