Contemporary Fish Stories
YES, THE BASS ARE BIG
by Evelyn Minsterman
July 8, 2000, was a beautiful, sunny Saturday morning, one of those days when fishing takes priority. I was fishing off our dock, just killing time until my husband got ready to take a ride to get some bait. We were almost out of worms and, after a few minutes, all I had left on my hook was a slivered remnant of a nightcrawler.
Instead of rebaiting, I walked to the other end of the dock and made a cast. The water there is–maximum–three feet deep. I was using an older Shakespeare outfit and had a bobber on my line to drift the worm off the bottom.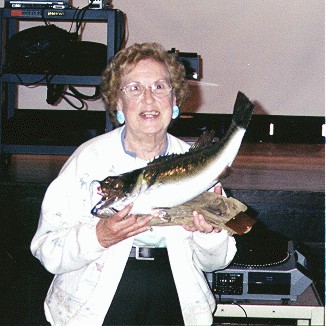 As soon as the bobber settled, it disappeared, moving steadily away from our dock. I set the hook and held fast to the largest fish I had ever hooked! All I could think of was, "What do I do now?" I knew that I couldn't walk the fish to the other end of the dock, where the net was propped up. It would wrap my line around the dock's poles. I even thought of jumping in and playing the fish in the water!
Fortunately, my husband walked out of our house to tell me about a telephone call. I screamed, "Get a net!" He dashed down to the water and, in his haste, nearly fell off the dock. By then, some neighbors had gathered to watch the show. People speculated about what the fish was. My husband thought it had to be a carp. One neighbor said that only a sheepshead could fight that way. Then, the fish broke water and reality set in.
It was a largemouth bass. It was 22 inches long, had a 14 inch girth, and weighed 10 pounds 2 ounces. Later, I learned that the fish was a big largemouth for any lake.
***** ***** *****
WALLEYE and PERCH FISHING 2002
by Capt. Tom Pierce - USCG 194007
It is now October 23rd and the first reports of walleyes being caught from shore are trickling in. Off points from about a half hour before sunset until after dark seems to be the pattern. Use long floating plugs, blue and white or silver. A strong wind blowing onshore on dark nights works best. GOOD LUCK!
Yes, it is true, a few walleyes are being caught by a few dedicated anglers. Remember the Old Fisherman's saying "Five percent of the fishermen catch ninety five percent of the fish."? The five percent are the ones left fishing, the others are not on the lake, just count the boats.
The NYSDEC would have you believe the fishing is good based on the catch rates reported during the creel survey. The creel survey is based on the number of fish caught, not on the number you can keep. Oneida Lake has always been managed as a quantity not quality (big fish) fishery, the number of catch able fish varying from a high of 1 million to a low of 200 thousand. Before Cormorants the average being 600 thousand.
The DEC believes that if you catch fish, you should be happy, even if you have to throw them back. There are two big problems with that mind set.
1. Because walleye are such good table fare, anglers prefer to keep what they catch.
2. The survival rate of caught and released walleye is not good. Researchers have advised that catch and release events not be held when water temperatures exceed 64 degrees Fahrenheit. The Pro Walleye Tour recognizes this as a big problem and tries to schedule most of their events in the spring or fall. To their credit they have also sponsored many research studies on the subject.
The majority of walleye being caught in July and August are being caught in the vicinity of the buoy line from 109 to 125. These fish are being caught using lead line, down riggers, Dipsey Divers or pulling copper. Flutter spoons and jointed plugs are favorites. Reduced oxygen levels below 40 feet reduce your chances in these depths.
Some fish are being caught in the weeds by jig fishermen. I can not advise you on jig fishing, my last outing with "Fishin'fil" attests to this. He caught 19 I caught 1. Of these 20 there was one keeper. Who knows how many of these releases survived, probably more than if we were night fishing or trolling but still not good because of the warm water. My observations are that the majority of people are aware of the problem, and take special care when releasing "shorty".
PERCH
Perch are just now beginning to school up and load up for the winter. (Aug.24, '02) Crabs near weeds, minnows on the North Shore drop offs. Sometimes in the shallow top or the deeper bottom but some where near the drop. Drift until you find them, then drift that spot. My experience is "Keep The Bait Moving".
***** ***** *****
"WHITES"--THE OTHER ONEIDA LAKE PERCH
by John Forney et al.
White perch are extremely common in Oneida Lake. They school in large numbers, bite aggressively, fight like holy terrors, are subject to no size or creel limits, and taste great. Not a bad resume--especially for a fish which, surprisingly, many anglers disdain.
White perch are the lake's only panfish that can live in fresh or salt water. They first appeared in Central New York in the late 1940's, invading through the Barge Canal system.
Oneida Lake's white perch population has fluctuated widely over the past fifty years. The fish's initial population boom in the 1950's was followed by a decline in the 60's. Several successful hatches in the late 1970's and early 1980's propelled numbers to a record by 1985. Just as it appeared that white perch might surpass yellow perch in abundance, their population collapsed. Dead white perch littered the lake's surface in the springs of 1987 and 1988, but the exact cause of their mortality was never determined. One theory held that unusually hot Spring temperatures triggered stress in the fish during spawning. Another said that a pathogen infected and killed the perch.
In subsequent years, white perch numbers gradually increased. Successful hatches occurred in 1995, 1997, and 1998. The population is now poised to reach a new peak and it is again approaching the lake's yellow perch total.
Whites feed mostly on zooplankton, midge larvae, and fresh water shrimp, and compete with yellow perch for these items. Abundance of whites in the past have not, however, had a measurable effect on yellow perch growth.
White perch spawn from late May through August, mostly on the lake's shoals. Some spawning occurs in the lower realms of Chittenango, Fish, and Oneida Creeks. A single female may emit from 30,000 to 300,000 eggs, depending on her size. These eggs hatch in 3-5 days. Larvae grow rapidly and young perch reach a length of 2.5 to 4 inches by fall.
How do you catch white perch? The fish love garden worms, bits of nightcrawlers, and small twister jigs (white and yellow are effective colors). Light and medium action rods work best and lend a sporting touch to white perch angling. Four- and six-pound test lines, tipped with #6 hooks and split shots, are fine. Once you locate a school, be ready for some incredibly fast action.
Where can you find Oneida Lake's whites? After ice-out, Oneida Creek's mouth and the Barge Canal at Sylvan Beach are proven hot spots. Cornell biologists have netted many whites on the lake's shoals in July and August and recommend that anglers try virtually any shoal that has about 8- to 15-foot depths. The biologists have been particularly successful netting the Dakin Shoals area. Yellow perch anglers often find huge schools of whites feeding off Sylvan and Verona Beaches in August and early September.
White perch fillets are delicious, but require finesseful preparation. When skinning the fillet, keep your knife blade angled slightly above the skin. It should never touch the skin. This technique removes most of the fish's darker, less tasty flesh. Also, you'll find a strip of fat along the filet's upper (dorsal) side. Remove it--it tears off easily. Cook the fillets as you would walleyes or yellow perch and be prepared for a gourmet delight.
***** ***** *****
Largemouth and Smallmouth Numbers Soar
by Thomas Brooking, J. Randy Jackson, and Anthony VanDeValk, Cornell Field Station
Introduction
Many walleye and perch anglers have discovered the excitement of hearing their reels' drags scream when a smallmouth bass hooks up and streaks for mid-lake. Often, the fish rockets from the water in a body-shaking leap, creating the ultimate Oneida Lake anglers' adrenaline rush. Smallmouths inhabit the lake's rocky shoals and also live in shoreline areas that have both rocks and weeds. Their largemouth cousins prefer dense, weedy locales, often with softer bottoms. Bays and marinas provide ideal habitat for the latter bass. Large numbers of both bass thrive in our lake, creating superb angling opportunities.
In recent years, when walleye and perch numbers have tumbled, bass have become a more popular quarry. Smallmouths, or "bronze-backs" in the vernacular, and largemouths, are Oneida's third most pursued species. Data recorded by the Cornell Creel Survey of 1997-98 and by the Angler Diary Program from 1994-99, clearly show this.
Smallmouths Abound
We estimated smallmouth bass abundance from the catch of adult bass in our gillnets. The Field Station has used these standard nets since 1958. We set the nets at 15 sites around the lake during the Summer. The smallmouth bass catch in our nets has increased substantially since the mid-1980's. The number of smallmouths we netted in 2000 was nearly three times the amount we captured in 1985!
This increase agrees with a similar rise in the number of young smallmouths that hatched in late Spring. We catch the young each summer in our trawl nets. These nets are towed, along the bottom, at 10 sites every week. You may have seen our large, red trawling boat with "Cornell" printed on the side.
The catch of young bass has jumped since the mid-1980's. For example, the 1994 hatch was 3.8 times larger than the largest hatch recorded from 1958 to 1990! This is excellent news for bass anglers and indicates that the smallmouth population is thriving. Changes during the last decade, such as the zebra mussel invasion and reduced phosphorus levels, have not negatively affected bass.
We can only speculate on why smallmouth numbers have increased. Bass are a "sight feeding predator" and Oneida's clearer water helps them find prey. Historically, smallmouths are known for inhabiting clear, pristine lakes. Smallmouths may also be helped by the lake's increased aquatic vegetation. In addition, fewer walleyes in Oneida probably means less competition for bass for available forage. Finally, increased abundance of white perch and gizzard shad provide additional prey for bass. The good bass hatches of the 1990's should sustain the population at a high level for at least several more years.
What About Largemouths?
We don't have as much information on "bucket mouths". They are primarily found in thick weeds and we seldom catch them in our nets.
We remedied our data drought by attending several bass club fishing tournaments during August of 2000. We collected age and growth data on a few of the largemouth bass. We checked 70 largemouths at the South Shore Boat Launch and 46 at the Oneida Shores County Park. Fish were weighed and measured. Scale samples, used to age fish, were also collected.
Anglers caught a lot of big bass. Out of the 116 largemouths we checked, 44 weighed over 3 pounds. Four of these tipped the scales at over 5 pounds! There are obviously some lunker largemouths living in Oneida.
Lake-Wide Bass Movements
In the late 1950's, Dr. John Forney examined smallmouth bass growth, movement, and survival. In that study, smallmouths were tagged and released just prior to the 1954-1958 fishing seasons. Most tagged fish remained within 1-2 miles of where they were tagged. This is what we call a "localized" population. When Forney moved bass from netting sites to distant release points (up to 15 miles away), the majority of the fish returned to their home areas. Little movement of fish occurred between bass tagged at Constantia and Shackelton Shoals, although these places are separated by only 3 miles. Forney also found that from 5-21% of the lake's bass were caught by anglers yearly. Later, he discovered that most young bass fingerlings were produced in years with the warmest June air temperatures. Bass growth was greatest in years that boasted good hatches of yellow perch.
How Fast Do Bass Grow?
A fish's age can be determined by examining scales under a microscope. Many fish have growth rings on their scales, similar to rings in a tree, though not as clear. We can determine how many winters a fish has lived through by counting these rings.
The chart shows the average length of Oneida Lake smallmouth and largemouth bass after each growing season. For example, a 2 ½ year-old smallmouth is, generally, about 9 inches long. A largemouth that is 18½ inches long is probably 11½ years old! Smallmouths grow a little slower than largemouths. Any smallmouth from Oneida that exceeds 16 inches is at least 8 years old.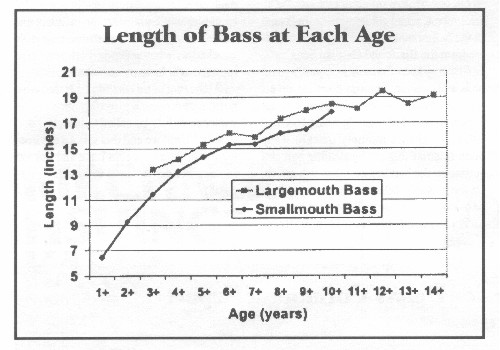 Many Oneida Lake bass live more than 10 years, and the largest ones live more than 14! Smallmouths are growing faster now than they did in the past. Fingerling bass are larger at the end of their first summer, and the growth rate of young adults has increased in the past 5-10 years, compared to bass that lived from the 1950's to the 1980's.
These changes are probably due to some of the larger changes in the lake. Again, increases in water clarity, abundance of weeds, and more available forage probably benefit bass.
A Bass' Preferred Menu
Stomach analyses of adult smallmouth bass revealed that the most commonly ingested items were crayfish (47% of diet items), small fish and minnows (41%), and aquatic insects (13%). Fingerling smallmouths eat mostly insects, plankton, and some minnows. Adult largemouth bass consume primarily smaller fish. They dine on whatever forage species is most readily available. They are opportunistic feeders, however, and also gorge on insects, invertebrates, amphibians, and even bite-sized mammals.
Where are the Bass?
Try any stone-bottomed area of the lake for smallmouths and the shallow, weedy, mud-floored bays for largemouths. Marinas and their adjoining waters are also good largemouth spots. Shallow, rocky reefs, surrounded by deeper water, are particularly good areas for smallmouths.
The bait and tackle shops near the lake are libraries of fishing knowledge and can hook anglers up with the latest in lures, baits, and tackle options that appeal to Oneida Lake's booming bass population.
***** ***** *****
Fish Tales From Oneida Lake History
Here are a few Oneida Lake fish stories from history. If you have a contemporary or historical fish story to share, send it to the OLA and we'll be pleased to post it on this page.
Oswego Palladium-Times, August 20, 1936
Fish Tows Boat*
Utica - Charley Zebley's fish story of seeing a boat pulled a mile and a half on Oneida Lake was just another fish story until the fisherman came back with the proof. After being dragged about the lake all afternoon by his catch, he finally landed a 17-pound catfish!
***** ***** *****
Oswego Daily Palladium, December 23, 1924
George Hoyt's Latest Fish Story.
George Hoyt, versatile correspondent- of Central Square, told another one. He writes that while fishing through the ice of Oneida Lake, Adam Klock. of Jewell, caught an albino eel and a pike, and that the cause of the unnatural color in the fish is through their feeding on wheat in a barge sunk in the lake two years ago. Now that's an interesting effect of diet on fish!
***** ***** *****
Utica Herald-Dispatch, July 24, 1908
Mayor Kingsbury Gets Some Big Fish
Little Falls. July 14. — Two happy fishermen returned from Oneida Lake last night in the persons of Mayor Kingsbury of Little Falls and K. C. Carp of this city, says today's Syracuse Post-Standard. They had in their possession ten pickerel and eight pike. Four of the pike weighed six-pounds each and the Mayor forwarded two of them to the biggest fish-story tellers in the Little Falls Common Council. He said that when he returns home there is likely to be an exodus of politicians from Little Falls to Brewerton and South Bay as a result of his fishing trip.